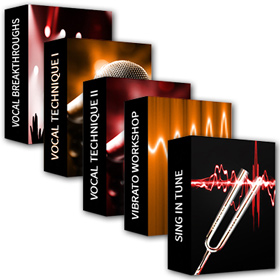 This is a massive collection of the most powerful vocal exercises to help you become your best.
You'll develop bone-rattling power, delicate expressive control and irresistible tone–the jaw-dropping talents that are the mark of a great singer. Nail the high notes. Release the strain. Unlock a shimmering vibrato. Sing perfectly in tune.
Over 5 hours and 300 audio files containing the technique and exercises used by top vocalists worldwide.
$175 $125
Includes Vocal Technique I (General), Vocal Technique II (Advanced), Vibrato Workshop, Vocal Breakthroughs and Sing in Tune at a discounted bundle price. Instant download!