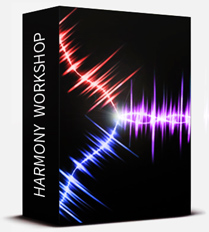 My new lesson download Harmony Workshop is all about singing gorgeous vocal harmonies. You'll learn how to harmonize by ear, on-the-fly! The lessons cover beginning to advanced harmonization techniques including parallel harmony, counterpoint, chromaticism, multi-part harmony, and much more.
Beyond training you to find harmonies by ear as well as understand the procedure of creating a beautiful harmony part compositionally, it's also just ridiculously fun. Vocal harmonizing is one of the most transcendent experiences in music, and Harmony Workshop is full of musical examples where you can sing along and harmonize with me.
It's a colossal collection of techniques, instruction and training–over four hours and 300+ audio tracks. You'll become an absolute wizard at harmonizing. Ready to dive in? Get Harmony Workshop now!
---